We think of the water as a maritime wilderness. Little do we realize that beneath the surface are the most bizarre and weirdest ocean creatures on Earth.


Sunfish
The world's heaviest bony fish was caught off the coast of Japan in 1996, weighing in at a staggering 5,070 lbs. (2,300 kg). For decades, scientists erroneously thought the whopper was a species of sunfish called Mola mola. Now, according to a paper published Dec. 5 in the journal Ichthyological Research, the big catch has been properly classified as Mola alexandrini, a species previously unknown to science.
Sunfish, in general, are the heaviest fish in the sea, with skeletons made of bone. (This differs from sharks and rays, for example, whose skeletons are made of cartilage.) Their bodies are huge and round, are shaped like wagon wheels or pancakes and can grow to be more than 10 feet long. Because of their great girth, sunfish are notoriously hard to transport and study. But genetic tests carried out earlier this year helped scientists determine that there are far more species of sunfish than previously thought
Halitrephes Massi Jellyfish
This brightly colored sea-dweller, dubbed the Halitrephes Massi jellyfish, lives in the Eastern Pacific Ocean and is rarely seen by humans. So, what's behind its stunning array of colors? Canals that move nutrients through the jellyfish's body reflect light to make this brilliant display.
Blob Sculpin
The blob sculpin the deep-water equivalent of Grumpy Cat
is a miserable-looking fish that lives in very deep water in both the North Pacific and the Bering Sea. While this bottom-feeder may look perpetually bored and bummed out, they actually keep pretty busy on the ocean floor. Sculpins fan their eggs to keep them free of sand, which is unusual behavior for deep-sea fish, who tend to be a bit laxer when it comes to parenting their offspring.
Kleptopredator sea slug
The bottom-dwelling sea slug known as Cratena peregrina was known to dine on polyps, but researchers determined this year that the slug strongly prefers to chow on polyps that have just finished eating dinner. This sort of behavior is known as kleptopredation stealing a predator's feast by swallowing up the predator and its prey at the same time and, according to a study published Nov. 1 in the journal Biology, was observed in nature for the first time ever this year. Kleptopredation provides C. peregrina with enough plankton to account for about half of its diet, the study found, overturning previous claims that polyps were the slug's primary food source.
Christmas Tree Worms
Christmas Tree Worms, which can be found in warm, tropical waters ranging from the Caribbean to Indonesia, earned their name from the tree-like appendages that protrude from their top. The part of this worm that looks like a Christmas tree is actually its mouths, however, and the feathery bits are tentacles that push food toward its digestive apparatus.
A slinky-like sac of slime
A glowing, swirling, gelatinous blob photographed by scuba divers off the coast of Australia captured the internet's attention in September. Was the Slinky-like sac some sort of sea monster? An enormous worm? Or perhaps a creature totally new to science? Rebecca Helm, a jellyfish biologist at the Woods Hole Oceanographic Institution in Massachusetts, revealed the answer: The blob was in fact a string of thousands of tiny eggs laid by a little-known species of squid.
"The species that has been published is Thysanoteuthis rhombus (aka the 'diamond squid'), but it's hard to know for sure," Helm told Live Science. "ID'ing squid eggs is a pretty esoteric art."
Diamond squid can grow to be about 3 feet long, weigh up to 66 lbs. (30 kilograms) and resemble a pinkish kite attached to a cluster of tentacles. The creatures can lay between 24,100 and 43,800 eggs at a time, all encased in a gelatinous tube that can grow up to 6 feet (1.8 m) long, according to Helm. The tube's pinkish glow comes from the color of the eggs themselves, Helm said, though it's not clear what makes the hue so vibrant.
Clown Frogfish
The clown frogfish hangs out among coral, and can clearly camouflage itself accordingly, although changing its appearance does take a few weeks. Its mouth is big enough that it can eat prey its own size, meaning you might see one of these brightly-colored fish snacking on prey up to 5.9 inches long.
World's deepest-living predator - Lizard Fish
Scientists aboard a research vessel were trawling for fish near eastern Australia when they accidentally pulled up this: a fang-faced monster that has the body of an eel, the face of a lizard and an impressive reputation as the world's deepest-living predator.
Known as Bathysaurus ferox (literally meaning "fierce deep-sea lizard"), the so-called lizardfish has an MO of burying itself on the deep seafloor, 3,300 to 8,200 feet (1,000 to 2,500 m) below the water's surface. When unsuspecting prey swims by, B. ferox darts out of the sediment and snatches up the meal in its formidable jaws. "Once it has you in its jaws, there is no escape: The more you struggle, the farther into its mouth you go," Asher Flatt, the vessel's onboard communicator, wrote in a blog post.
Fangtooth
Think sharks are the only terrifyingly-toothy residents of the ocean? Think again. In fact, adult fangtooth, commonly found around the world in tropical and cold-temperate waters, has the largest teeth of any fish in the ocean, proportionate to body size. But don't worry, your fears of a fangtooth attack are largely unfounded: they live in the deep sea, and although their teeth look enormous, a large fangtooth is only six inches long.
Gulper Eel
Despite its name and eel-like appearance, the gulper eel isn't a true eel it's just another kind of fish. Gulper eels, which live in ocean depths of up to 10,000 feet, do have one extraordinary feature aside from their frightening teeth: bioluminescence. They've also got another trick up their proverbial sleeves: because of their distinctive jaws, some gulper eels can actually consume prey that's bigger than they are.
Vampire Squid
The vampire squid lives at ocean depths of 2,000 to 3,000 feet. It got its name from its webbing, which it can turn inside out and cover itself with it, like a vampire's black cloak, when it needs to hide. Its webbing is also covered with fleshy spines. And if the vampire squid gets agitated enough, it will shoot blue bioluminescent mucus out of its arm tips to daze predators so it can swim away into darkness.
The Goblin Shark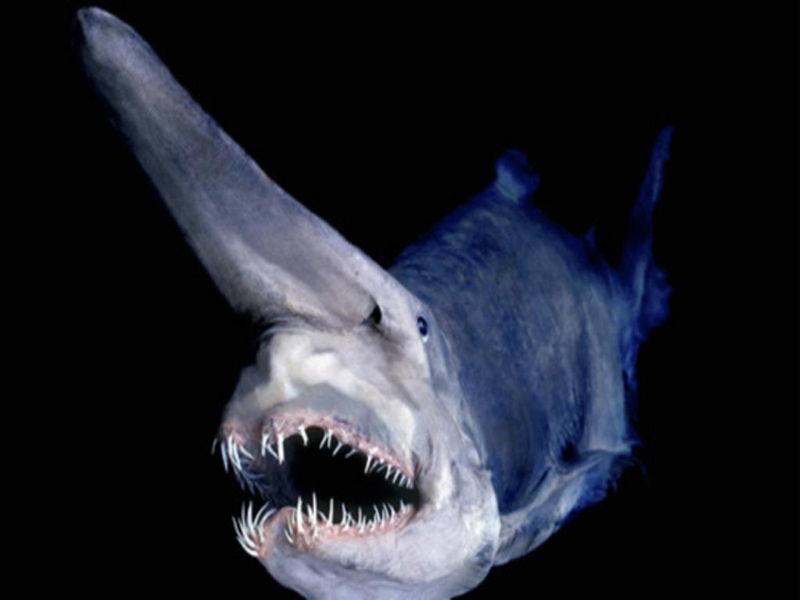 Source: Imgur
Deemed by some scientists as a "living fossil" and tragically overshadowed in pop culture by its flashier shark counterparts, the goblin shark leads a relatively mysterious existence deep below the ocean blue. The only extant survivor of a 125 million-year-old family of sharks, the goblin is truly unique…and ugly. But apart from its most salient features (re its long, flattened snout, protruding jaws and claw-like teeth), the goblin is relatively unremarkable.
Most scientists speculate that in the underwater world, the goblin shark plays the role of an elderly next-door neighbor. Why? Just like your elderly neighbor, the goblin shark's general flabbiness conveys the fact that it's not exactly moving around that much, and further, that it doesn't even need to in order to survive.
Unlike your elderly next-door neighbor, it's highly unlikely that you'll ever see a goblin shark in your lifetime. While they were discovered in the 19th century, goblin sharks are incredibly rare and prefer to confine themselves to the ocean's lower depths–not the public eye. In fact, when one was brought to an aquarium in Japan a few years ago, it died soon after.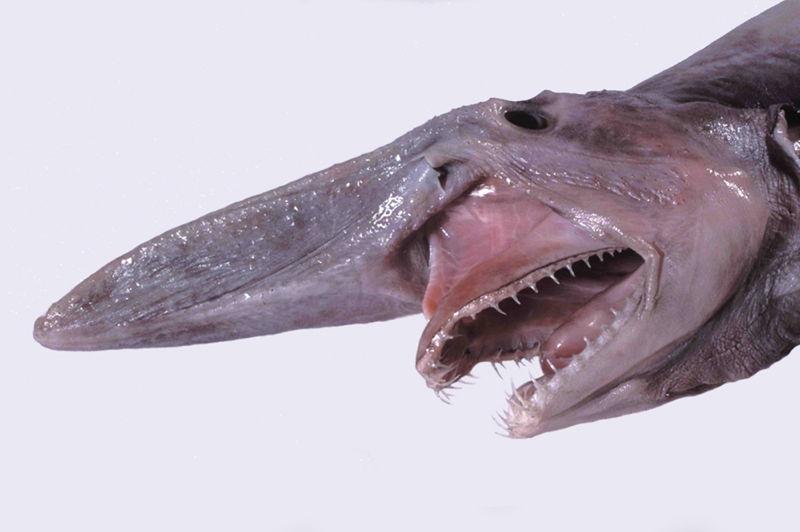 Anglerfish
The anglerfish looks like pure nightmare fuel, but you probably shouldn't worry about encountering one that looks like this: they only live in the deep sea. They're also pretty lazy hunters; anglerfish don't chase prey, but rather dangle a fleshy growth on their head in front of their mouth to lure in their meals.
Red Handfish
In addition to being a strange-looking creature, the red handfish also has a weird way of getting around. Instead of swimming, it uses its hand-like fins to walk along the ocean floor. It is thought to be one of the rarest fish in the world; in fact, until this year, there were thought to be between 20 and 40 of them living in the entire world.


Flamingo Tongue Snail
Source: Richard Seaman
Shell collectors of the world, be warned. Though the saturated snail you see above bears a visually striking "shell", the vibrant patterns aren't part of the shell itself but rather the mollusk's living mantle tissue.
Located in the waters of the Atlantic and Caribbean, the flamingo tongue snail feeds on toxic sea fans and yet, much like Bruce Willis in "Unbreakable", suffers no harm. In fact, the snail only benefits from doing so. While chewing on sea fans, the cunning snail absorbs their venom and–to the chagrin of its potential predators–becomes toxic itself.
While the flamingo tongue snail used to be a relatively common sight, its unique exterior has rendered it a popular underwater "souvenir" for scuba divers, which has contributed even more to its novelty status.
Terrible Claw Lobster
With just one look, it's pretty obvious how the terrible claw lobster got its name. This creature was only discovered in 2007, 850 feet below the surface off the coast of the Philippines. It's certainly creepy looking, but you don't have to worry about finding yourself caught in its claws. In addition to being completely blind, it's also only an inch long (minus the terrible claws).
Frilled Shark
The frilled shark, an inhabitant of the Atlantic and Pacific Oceans with a shark-like head and somewhat snake-like body, probably doesn't live deep enough in the ocean for most beach-goers' liking. In fact, frilled sharks are frequently spotted in water as shallow as 160 feet deep. It's frequently described as a "living fossil," with the oldest frill shark fossil remnants dating back to the early Pleistocene, more than 2.5 million years ago.
Leafy Seadragon
This might look like a drifting piece of kelp, but it's actually a leafy seadragon, which is found off the southern and western coasts of Australia. They're nicknamed "leafies" and are the marine emblem of South Australia. And while their cool-looking fins may seem like a means of propelling the seadragon through the water, they're actually only used as a means of camouflage.
Northern Stargazer
The northern stargazer has its eyes, nostrils, and mouth all on top of its head, so it can bury itself completely in the sand to hunt. Hidden like this, when prey swims by, the stargazer can pop up and grab it quickly.
Polka Dot Nudibranch
A nudibranch is a group of over 3,000 sea slug-like creatures that are known for their colorful appearances. This particularly festive-looking variety is a polka dot nudibranch, which can grow to be up to a little over two inches long. However, those spots aren't as fuzzy as they look they're actually made up of firm bristles.


The Sea Cucumber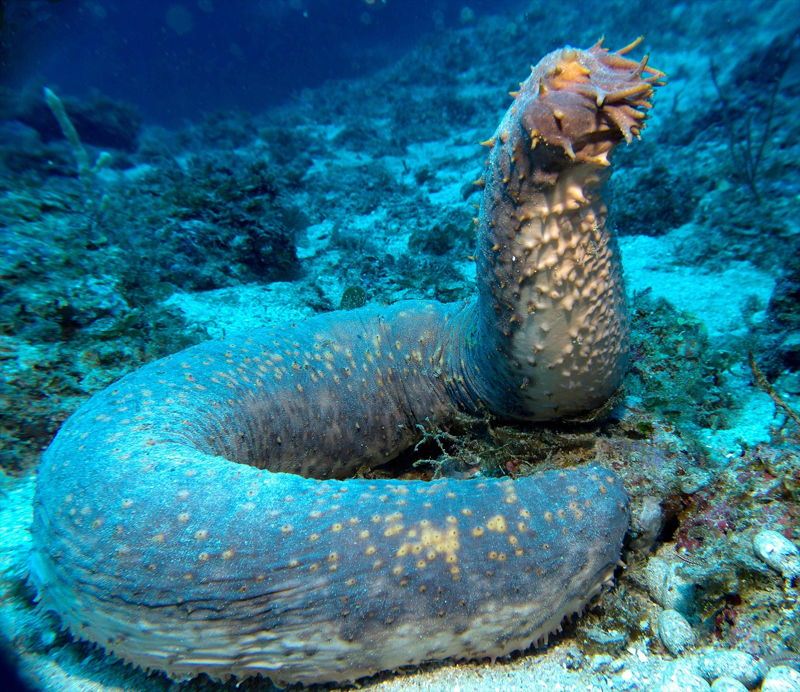 Source:
National Geographic
The continued existence of these icky echinoderms is somewhat mind-boggling. Lacking a true brain and any semblance of sensory organs, the sea cucumber is endowed with the same mental capacity as the food for which it is named. Nevertheless, the colorful cuke constitutes a vital part of the oceanic ecosystem, as it breaks down detritus and recycles any and all nutrients that come it's way.
Unlike the cucumbers we like to put over our eyes and into our salads, the sea cucumber is incredibly flexible due to its collagen levels. For instance, if the sea cucumber needs to wedge itself into a tiny crevice, its collagen will loosen and the sea cucumber will effectively liquefy itself to seep into its desired locale.
When situations get truly dire, sea cucumbers can also engage in self-mutilation by violently contracting their muscles and expelling some of their internal organs out through their anus to ward off predators. Don't try this at home the next time you have an unwanted guest, though; unlike sea cucumbers, your internal organs won't grow back.
Sea Pen
A sea pen is a colonial animal made of many polyps. One polyp grows and becomes the base, and the other polyps develop out of this main polyp. So, how did they get their unique name? The sea pen's shape bears a passing resemblance to a quill pen.
Triggerfish
This toothy fellow, the triggerfish, lives in tropical and subtropical waters throughout the world. From the side, triggerfish may be pretty cute, thanks to their bright colors, but head-on, their human-like teeth make their appearance significantly less friendly.
Tasseled Wobbegong
The tasseled wobbegong is a kind of carpet shark that lives in the coral reefs off of Australia and New Guinea. It lays on the ocean floor, resting until it can ambush nearby prey for dinner.
Cosmic jellyfish
Spotted near a previously unexplored seamount roughly 9,800 feet (3,000 m) below sea level in a remote region of the Pacific Ocean near American Samoa, the ethereal invertebrate looks like a UFO and maybe a brand-new species of jellyfish.
It's hard to tell, though, as the saucer-shaped drifter was observed only via a remotely operated underwater vehicle during a deep-dive expedition by the National Oceanic and Atmospheric Administration (NOAA). Getting the critter under a microscope and running genetic analyses could help reveal its origins and maybe a lot more, the researchers said. "As we collect more observations like this one, we can begin to get a clearer picture of life in the midwater perhaps the largest biome on the planet," said Michael Ford, a conservation biologist with NOAA's Northwest Fisheries Science Center.


Giant Shipworm
The slimy mollusks known as shipworms have been making life harder for sailors at least since 412 B.C. when ancient records reveal complaints about the little wood-eating pests infesting and ruining entire boats. Giant shipworms called Kuphus polythalamia, however, have remained an unseen mystery for hundreds of years until April.
Researchers collected five giant shipworms of the species from a shallow bay in the Philippines, finally studying the elusive creature. Unlike small, wood-infesting shipworms, K. polythalamia can measure 3 to 5 feet (1 to 1.5 m) in length, live facedown in marine mud, and surround itself in hard, tubular shells that look like elephant tusks. Study co-author Margo Haygood, a research professor in medicinal chemistry at the University of Utah College of Pharmacy, likens the discovery to spotting "a unicorn for marine biologists.
Viperfish
Viperfish live in depths of 250 to 5,000 feet during the day, but at night they come to shallower waters. Those beautifully bright parts of its body? Those are photophores, light-producing organs used to lure prey. Viperfish are actually capable of remaining completely motionless for hours waiting for unsuspecting prey to swim by. They can live up to 40 years in the wild.
Wolffish
Wolffish live in the cold waters of the northern Atlantic and Pacific oceans. They eat hard-shelled animals, like clams, and use their canines and molars to crush their prey. In addition to having molars capable of crushing a clam, wolffish can also grow up to six feet long.
Dumbo Octopus
The little dumbo octopus is so named because its two big fins are reminiscent of Dumbo's floppy ears, which they flap to swim around. Unfortunately, for those hoping to see one of these adorable little guys in the wild, they live at depths below 9,000 feet, so you wouldn't spot one even if you're a record-breaking scuba diver.
Ghost shark
A new species of ghost shark discovered near South Africa set records this January. At nearly 3 feet (about 1 meter) in length, the creature is the second-largest species of ghost shark ever discovered, according to researchers at the Pacific Shark Research Center at the Moss Landing Marine Laboratories in California.
The species, Hydrolagus erithacus, marked the 50th recorded species of ghost shark and the third that fits into the genus Hydrolagus, which means "water rabbit." While H. erithacus is decidedly more shark than a rabbit, researchers noted that ghost sharks are not actually sharks at all. Rather, they are large, cartilaginous fish related to both sharks and rays. Unlike true sharks, ghost sharks (also known as chimeras or ratfish) propel themselves with their large pectoral fins, rather than their tails.