Las Vegas is driven by tourism, whether it's business trips, party groups, or family vacations. As the city moves farther away from gaming as its main source of revenue, a wide variety of attractions are proving to be major draws – especially for those bringing their kids along for a good time. Las Vegas is fast becoming one of the best destinations for families looking for fun and new experiences.
The shows and attractions are all there to entice people to visit specific casinos, but that doesn't mean you can't enjoy them if you don't gamble.
Even if you have kids with you there are many attractions for the entire family.
ADVENTURE CANYON AT BUFFALO BILL'S
This attraction for kids(and the whole family) is found at Buffalo Bill's in Primm, about 40 miles or a short drive from the Las Vegas strip.
Keep in mind that it is only open on Friday, Saturday, and Sunday beginning at noon each day. It's a perfect choice for after a late breakfast buffet in Las Vegas and will have you back in plenty of time for dinner.
It's a water ride that is head and shoulders above any water ride you've ever been on. Not only will you take a 35-foot drop, but you will also have the chance to work on your shooting skills as well.
It's an interactive adventure and riders will be given electronic guns to shoot at bandits during their ride. Watch out though! They shoot back with water,
When the ride is over you will be able to see who scored with the most shots from your group.
NEW YORK NEW YORK ROLLER COASTER
Length: 4,777 feet

Max height: 203 feet

Biggest Drop: 144 feet

Max Speed: 67 mph

Ride Duration: 2 minutes, 45 seconds
Enjoy a stunning view of the strip as you climb slowly to the top and then plummet down a 144-foot drop. The intensity never stops with loops, corkscrews, and hills that will have you doing speeds of almost 70MPH.
If you are really adventurous, the ride also has a Virtual Reality option. Slide on your headset for as the ride begins and enjoy a 4k resolution video with a clear, crisp sound that will make your roller coaster ride a completely immersive experience.
There is no age restriction but minimum height is 54 inches with no loose articles allowed on the ride.
The ride is located on the second level inside the NY Ny hotel/casino at the south end of the strip. It's open every day beginning at 10:30 a.m. The front desk will give you the current prices of the ride.
Super fun and kids love it. Get a brief training session, strap into the suit, goggles, and helmet and you're flying inside the Sky Diving wind tunnel. Sessions last 15 minutes – which doesn't sound like much but was plenty for us. There are discounts for repeats if you want to immediately book another session.
• Open daily with start times from 10:30am-6pm.
The Best Cirque du Soleil for Families
The magic and thrill of Cirque du Soleil can be found in theaters and arenas all over the world, but Las Vegas is the only city that has seven of the productions in residency. Located at resorts that line the Strip, each show blends stunts, acrobatics, comedy, music, inventive staging and exotic imagery in an eclectic circus setting while following a philosophy of not using animals as props. The
Beatles LOVE
at the Mirage and
Michael Jackson ONE
at Mandalay Bay each pay tribute to pop music with thrilling action to match booming sound systems.
O at the Bellagio
features dangerous stunts above water while KA takes the audience on an epic Asian-inspired journey with a floating stage that nearly steals the show all by itself. Criss Angel MINDFREAK LIVE! at the Luxor showcases one of the top magicians in the world while
Mystère
at Treasure Island offers a more general big top feel and is a good starting point for anyone who hasn't experienced Cirque before. Zumanity at New York-New York is not kid-friendly. It is strictly adults-only with sensual themes and nudity. • Times and dates vary by show.
You don't have to be a golf fanatic to enjoy this place. The recently opened flagship edition of the Topgolf empire sits just behind the MGM Grand resort, offering a three-level driving range and a spectacular view of the Las Vegas Strip. The skill level is irrelevant. Just sit back and hit some balls at your leisure while ordering food and drink that's delivered directly to your private climate-controlled bay. The venue is also decked out with more than 200 high-def TVs, dining areas, and even two different swimming pools with surrounding cabanas. There are one-hour golf lessons for beginners and intermediates for an extra fee (we took them and glad we did). Shuttle buses are available from the MGM Grand resort. Otherwise, parking is valet-only or its a short taxi ride from hotels on the strip.
• Sunday to Thursday: 9am-1am. Friday to Saturday: 9am-2am.
At 550 feet above the ground, the High Roller is the tallest observation wheel in the world. Not to be confused with a "Ferris" wheel, it features cabins large enough to hold 40 people while serving as observation decks that slowly rotate through the sky. It's one of the best ways to soak in the beauty of Las Vegas with 360-degree views that include the airport, mountains, and of course, the Strip in all its glory. The High Roller never quite stops moving, with guests hopping on and off as the cabins move through a platform at the bottom. They move slow, allowing everyone to enter and exit without much fuss. Prices cost more at night (after 5 p.m.) and there are discounts for ages 4-12 while children 3 and under are always free. A full ride takes about 30-40 minutes. The High Roller sits at the end of The LINQ promenade, a tourist attraction in its own right with shops, restaurants, and activities. If you're short on time, head to Sprinkles, where you can order a delicious treat from a "Cupcake ATM" outdoors.
• Open daily 11:30am-1:30pm
The Excalibur resort is designed like a castle from King Arthur's Camelot, so it totally makes sense that it's also home to Tournament of Kings. The show features medieval warriors on horseback, jousting and doing battle with swords, shields and swinging chains. The staged showdowns require plenty of athleticism and carefully crafted choreography. It's almost like what professional wrestling would be like hundreds of years ago. Meanwhile, the audience gets to cheer on the knight representing their section while feasting on a three-course meal with their bare hands just like peasants! The high energy spectacle provides plenty of action in a family-friendly atmosphere. Kids under 3 are free but must sit in an adult's lap and share the meal. Fun fact: The Excalibur is the largest single buyer of Cornish game hens just so they can be served during this show.
• Sunday, Monday, Wednesday, Thursday and Saturday: 6-8:30pm. Closed Tuesday and Friday.
Imagine a museum dedicated to your favorite Marvel superheroes. That's what Avengers S.T.A.T.I.O.N. is all about. You'll get an up-close look at costumes used in the actual movies as well as in-depth videos and interactive exhibits. Visitors are welcomed as new agents in training, given a mobile phone and badge to guide them through the attraction. You'll see Captain America's uniform and shield as well as Ant Man's helmet and a surprisingly diverse collection of Iron Man suits. Some exhibits are more indulgent than others, but the tour allows you to go at your own pace, whether a superfan or casual observer. At the end of the journey is a visit to the world's largest retail store dedicated to the Marvel cinematic universe, sure thrill young kids and frighten parents guarding their wallets. It includes a green screen photo opportunity and an Iron Man virtual reality experience. Located inside Treasure Island, the attraction is free to those staying at the resort (and children 3 and under) with discounts available for seniors, students, locals and active military members. Treasure Island is also one of the few resorts on the Strip that has resisted the urge to charge for parking, leaving you with a few extra dollars to spend on souvenirs.
• Open daily: 10am-10pm.
Originally a home for animals that were part of shows and attractions on the Strip, the Lion Habitat Ranch has been around since 1975, but only started welcoming visitors in 2012. It's a kid-friendly and safe environment for families to get up-close with wildlife usually only found in exotic parts of the world. The ranch currently features 36 lions, a 3-year-old giraffe, ostriches, emus, and exotic birds. Guests are within four feet of the animals, compared to your average zoo where visitors are kept much farther away. Designated areas allow you to take a photo with a lion safely in the background and depending on the day, you may get to see them fed, which is fascinating entertainment all by itself. However, it's Ozzie the giraffe who often steals the show, using his mouth to paint one-of-a-kind artwork for guests to take home. As a nonprofit, the ranch depends on donations and admission fees to take care of the animals, with expenses running more than $60,000 a month. Kids under 4 are always free while kids under 14 are free when accompanied by an adult.
• Friday to Monday at 11am-2:30pm. Closed Tuesday to Thursday.
A summertime joy in the southwest valley and close to those living (or staying with relatives) in the affluent Summerlin area, Wet'n'Wild is a water park that does its best to appeal to both youngsters, teens, and adults with 27 slides and 10 unique attractions. The Tornado spins you around a giant funnel before dropping down into a pool below, while Canyon Cliffs is a six-story slide that begins with a near-vertical drop. A few of the more intense rides require adult supervision, including the Constrictor which features some extremely tight turns, and height requirements are explicitly posted. About to enter its fifth season, Wet'n'Wild operates about 125 days a year with prices based on date and busy periods. Season passes can be used at sister properties in Hawaii, Phoenix, Palm Springs, and Houston proving that not everything always stays in Vegas.
• Hours vary depending on the time of year. Closed during winter.
The Neon Museum is a great way for the little ones to learn about Las Vegas casino history, without having to step foot anywhere near a slot machine. The attraction is built around the Neon Boneyard, a two-acre campus that features more than 200 vintage signs and marquees from the Vegas glory years. They include a few places still around (like Caesars Palace and the Palms) and a few that have been famously imploded into dust (like the Stardust and Desert Inn). The museum has restored a few of these artifacts and some can be seen around the downtown area as part of an urban walking tour you can take on your own time. Other exhibits are dedicated to acclaimed architect Paul Revere Williams and the "Googie" style of architecture (once seen as futuristic but now firmly entrenched as a moment in time from years past.) The Neon Museum is best suited for kids 10 and older during the day and at least 12 during the (slightly more expensive) night tours where even though the neon lights up, you still need to be cautious of the broken glass and rusty metal in the dark. Once a month, Junior Interpreter tours are hosted for families, with middle and high school students guiding guests through the Boneyard collection. • Open daily 8am-8pm.
The Conservatory & Botanical Gardens is easily a top candidate for the most photographed spot in Las Vegas. It's also one of the best free attractions on the Strip. On display in the hotel lobby, the exhibits change every few months based on the season (like autumn and spring), holidays or whatever seems to be a compelling visual (a Japanese tea garden and "Under the Sea" were recent favorites). Each one features thousands of plants and flowers (most of which are recycled for future installations), carefully crafted into colorful designs and maintained by more than a hundred employees. The winter display is especially impressive and generally includes a towering white fir with polar bears, penguins and snow globes among the floral designs. However, one free attraction deserves another. You're also just stepping away from the famous Bellagio fountains, which offer breathtaking water shows that shoot hundreds of feet into the air. It's something that has to be seen at least once during any visit to Las Vegas, regardless of age. Keep in mind, while the attractions themselves come at no cost, the Bellagio does charge for valet and parking.
• Open 24 hours. Free.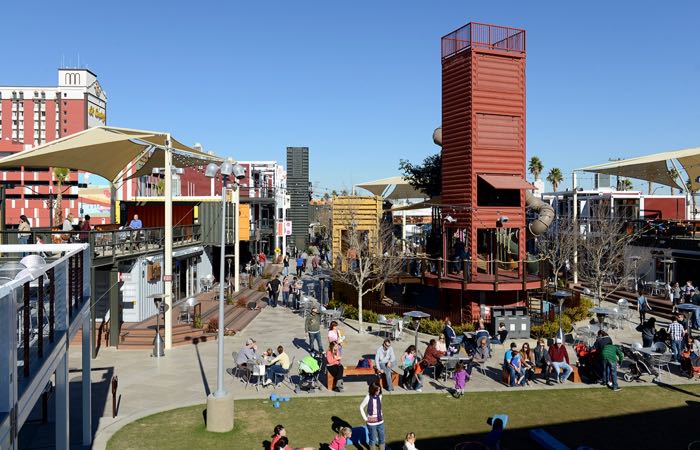 The Downtown Container Park features shops, bars, and restaurants made entirely from old shipping containers. It's a spectacle in itself and fun to walk through, even if you don't spend a dime although you're missing out if you don't try the hot dogs at Cheffinis. In the middle of it, all is the Treehouse, an interactive playground with stairs and slides. There's also an area off to the side with real grass (a rarity in Las Vegas) that features games, outdoor movies, and a stage for family-friendly entertainment. The park is within walking distance of the popular Fremont Street Experience and a number of downtown hotels. Metered street parking is available and relatively inexpensive.
• Sunday to Thursday: 11am-11pm. Friday to Saturday: 11am-1am.
While there are a few Madame Tussauds locations around the world, the version in Las Vegas was not only the first in the United States but perhaps also the one that seems to take the most joy in exploring America's celebrity culture. Open 365 days a year and located at the Venetian resort, the attraction has plenty of room for large scale exhibits with more than 100 lifelike celebrity wax figures, including moderns stars like The Rock and Will Smith, as well as Vegas legends like Sammy Davis Jr. and Elvis Presley.
The best bet for kids is a Marvel Superheroes area featuring The Hulk and Spider-Man along with a 4-D theater experience that includes wind, water, and even smells during a 3-D movie presentation. • Sunday to Thursday: 10am-8pm. Friday to Saturday: 10am-9pm.
DISCOVERY CHILDREN'S MUSEUM
The museum is located in Symphony Park adjacent to The Smith Center in downtown Las Vegas.
This is like letting kids loose in a candy store. There are three stories of interactive museum exhibits that promote science, art, and culture.
The children's museum is actually home to nine themed exhibition halls that span 58,000 square feet and provides children of all ages with tons of learning experiences that are in the form of play.
Here are a few of the adventures awaiting your children:
The Summit
The summit is a 70-foot, 13-level tower that features slides, climbing tubes, and hands-on experiments along the way. It's centered around machines, air pressure, flight, electricity, light, and much more.
It's important to keep track of your kids in here as the multilevel entrances and exits make it easy to get separated from your kids.
Water World
This is all about kids learning about water and how it moves and just how powerful it is. There are play stations with turbines, whirlpools, and water wheels that will have your kids learning all about water and how it works.
Toddler Town
This is a retreat for toddlers five and under. There are art projects, animal noises, a padded baby center and a two-story pully system for beanbags.
These are just a few of the exhibits your kids will enjoy. There are many more for you to discover.
There is no age limit, but kids under 13 must be accompanied by an adult. Tickets are $14.50 and free for children under one year of age.
It's located downtown Las Vegas next to the Donald W. Reynolds Discovery Center, next to the Smith Center. it is open every day beginning at 10 am.
You can drive a Ferrari, shoot machine guns, or go zip-lining. Whatever you decide to do, you will find that Las Vegas has some of the most amazing attractions in the world.
Whether you are staying downtown on Fremont Street of somewhere on the Las Vegas Strip there is plenty to do if you are traveling with kids.
If you are looking for day trips from Las Vegas there are plenty of choices as well. A couple of the favorites are the Hoover Dam, Laughlin, and the Grand Canyon.
If you are adults traveling without the kids, there are all kinds of shows to see if you are not inclined to spend your time gambling.
Las Vegas has some of the best entertainment in the world at any given time. They do this in order to attract visitors to their casino in the hopes they will decide to gamble before and after the show.
It's a great opportunity for non-gamblers to make the most of their visit to sin city.
Circus Circus has been around since the late 60s, offering a family-friendly spin the traditional Vegas casino with a big top theme based on clowns, rides, and bright colors. And while it's seen plenty of wear over the years, the best thing about the resort is the Adventuredome. It's a five-acre indoor park featuring roller coasters, bumper cars, and all sorts of fun stuff. You can pay per ride or take advantage of an all-day pass. The best time of year to visit, however, is during Halloween season when the Adventuredome transforms into Fright Dome, with several haunted attractions all under one roof. Circus Circus is also the only Strip location under the banner of MGM Resorts International to not charge for parking.
• Sunday: 10am-9pm. Monday to Thursday from 11am-6pm. Friday to Saturday: 10am-12am. Hours may vary during Halloween season and other holiday periods.
After opening in 2012, the Smith Center instantly became a much-needed destination for art and culture in Las Vegas, serving as the home for the Las Vegas Philharmonic and Nevada Ballet Theatre. Presentations include touring editions of Broadway favorites and concerts from the likes of Ringo Starr. Yet there's plenty to draw in the kids as well. The annual production of the Nutcracker is competitive with the very best editions you'll see in other parts of the country while Roald Dahl's Matilda the Musical, the Peter Pan-themed Finding Neverland, and Peter Rabbit Tale are among the family-friendly shows to grace the stage in 2017. The building itself is a work of art, inspired by the Hoover Dam's art deco style and easily identifiable by a 17-story bell tower. Sitting comfortably next to the Discovery Children's Museum on the grass-filled Symphony Park, the Smith Center includes Reynolds Hall, the Cabaret Jazz Theater, and Troesh Studio Theater. The Smith Center also offers a number of educational programs, including Camp Broadway – a summer program for kids with an interest in theater.
• Times and dates vary by show.
The Springs Preserve offers a unique opportunity to step outside the hectic pace of Las Vegas and enjoy nature, science and history in an educational environment. The property includes the Origen Museum (with exhibits that feature live animals and a cool flash flood demonstration) and the Nevada State Museum. The Springs Preserve is also home to nearly four miles of nature trails, archaeological sites, a butterfly habitat, a sustainable energy gallery, and Desert Sol an innovative solar-powered home that was created by UNLV students for a competition by the U.S. Department of Energy. A new attraction, Boomtown 1905, recreates actual Las Vegas businesses from more than a hundred years ago. General admission tickets include access to the museums but there may be restrictions on special events. A number of discounts are available, especially to Nevada residents.
• Open daily 9am-5pm. Closed Thanksgiving and Christmas.
More intimate and community-driven than Shark Reef, the SeaQuest Interactive Aquarium can be found east of the Strip as one of the new additions to the recently renovated Boulevard Mall. The idea is to explore exhibits that focus on different experiences from around the world, including the deserts of Egypt, the Amazon rainforest, and the Caribbean islands. Along the way, you'll have opportunities to get close to exotic sea life, birds, and reptiles – while maybe even feeding a shark or two. A swim with the stingrays is an especially exciting experience. The attraction is a great choice for an all-day family activity or a kid's birthday party and offers easy parking without the hustle and crowds of the Strip. If you're looking for a nearby place to grab food afterward, John's Incredible Pizza Company has indoor games and rides to go along with an all-you-can-eat pizza and pasta buffet.
• Sunday: 11am-7pm. Monday to Thursday: 10am-7pm. Friday to Saturday: 10am-9pm.
With more than 2,000 animals within 14 exhibits, the Shark Reef Aquarium is not only educational but also an incredibly rewarding experience for a town without a full-fledged zoo. Designed as an ancient sunken temple, guests walk through a tunnel surrounded by water and visit a replica of a shipwreck. There's also an interactive touch pool as well as opportunities to feed sea turtles, stingrays, and yes, even sharks. With more than 15 species represented, about 100 sharks call the aquarium home. You'll also come across reptiles like a golden crocodile and komodo dragon, not to mention countless examples of exotic fish. Discounts are available for kids (4-12) with admission free for those 3 and under. Located inside the Mandalay Bay Resort, the Shark Reef Aquarium is incredibly convenient and within steps of shopping, restaurants, and other attractions.
• Sunday to Thursday: 10am-8pm. Friday to Saturday: 10am-10pm.
A fun, glow-in-the-dark arena/play space. Glowzone has traditional favorites like bowling, mini-golf, arcade games, and bumper cars, but also features new games like Bazooka Ball (it's like laser tag and paintball but without the painful pellets). Older and active kids will like the Skyscraper ropes challenge course, laser maze, ninja course (perfect for fans of America Ninja Warriors), and climbing wall, while the soft city jungle gym, designed especially for those under the age of seven, features slides and a twisting, turning, glowing maze.
• Monday, Wednesday, Thursday: 3pm-9pm. Friday: 3pm-10pm. Saturday: 11am-10pm. Sunday: 11am-9pm. Closed Tuesdays.