Whether your kids are into trains, football, art, or history, here's our pick of 20 great free museums, many with interactive exhibits and activities aimed at younger visitors.
National Football Museum, Manchester You'll discover this museum in the uniquely modern Urbis building in the center of Manchester. The National Football Museum has proved a popular attraction since opening last July and its vast collection includes colorful memorabilia, player profiles, football kits, and photographs chronicling the history of the beautiful game. The Discovery Zone is a place where children can dress up as footballers themselves; and in the storytelling corner they can listen to stories of teams' triumphs.
Cathedral Gardens, 0161-605 8200, nationalfootballmuseum.com.
Open Mon-Sat 10am-5pm, Sun 11am-5pm, admission free Kelvingrove
Art Gallery and Museum, Glasgow Expression - Heads by Sophie Cave at Kelvingrove Art Gallery and Museum.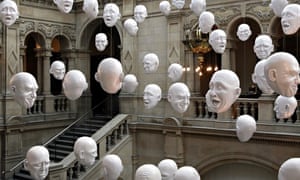 This much-loved institution is among the most-visited museums in the UK outside of London. With 22 galleries and more than 8,000 objects, Kelvingrove really is the kind of museum in which you can while away a rainy day. Fine art and armories aside, one of the most popular exhibits is the beehive, which is designed to allow the bees in and out of the building.
Argyle Street, 0141 276 9599, glasgowlife.org.uk/museums/kelvingrove.
Open Mon-Thurs, Sat 10am-5pm, Fri and Sun 11am-5pm, admission free
National Museum of Scotland, Edinburgh. There are plenty of exhibits designed especially for children at this museum, a great place to learn about the natural and human world. Some of the most remarkable objects on display include a gigantic skull (from a whale named Moby), and that timeless museum classic: a life-sized cast of a T rex skeleton that's a whopping 12m long.
Chambers Street, 0300 123 6789, nms.ac.uk.
Open daily 10am-5pm, admission free
Monkwearmouth Station Museum, Sunderland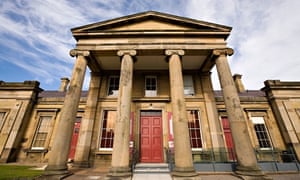 Trains are the name of the game at this fun museum in a grand former station building. The galleries look at the history of travel, with fascinating archive footage and photos of journeys past. The subject is brought to life thanks to a restoration of the original 1860s booking office and two beautiful old railway wagons that you can go inside.
North Bridge Street, 0191 567 7075, twmuseums.org.uk/monkwearmouth-station-museum. Open Mon-Sat 10am-5pm, Sun 2pm-5pm, admission free
V&A Museum of Childhood, London Paper soldiers, part of an exhibition at the V&A Museum of Childhood. With its adorable collection of teddy bears, a display of Victorian dollhouses big enough to outdo most first-time buyers and enough toys to prompt nostalgia from every generation, this is a museum that should charm adults as much as kids. Particularly memorable – for anyone with a penchant for horror is the macabre collection of china dolls, who seem to watch you as you wander past. If you're feeling spooked, go on a hunt for the Care Bears.
Cambridge Heath Road, 020-8983 5200, museumofchildhood.org.uk.
Open daily 10am-5.45pm
Big Pit National Coal Museum, Torfaen A former miner giving school pupils an underground tour at Big Pit National Coal Museum in Blaenavon, South Wales.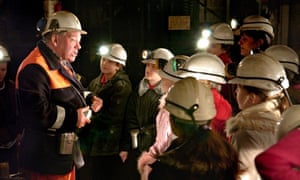 The prospect of going to a coal museum might be met with groans from your brood, but the Big Pit has the power to entertain as well as educate. The former coal mine was opened as a museum in 2004 and features displays that detail the hard work and sacrifice involved in getting coal from the earth. After taking part in the underground tour – in which visitors don helmets and cap lamps before being lowered 90m below the ground for a walk around the mine's tunnels – you can also take in exhibitions that depict the story of mining in Wales, in what used to be the pithead baths.
Blaenafon, 029-2057 3650, museumwales.ac.uk/bigpit.
Open daily 9.30am-4.30pm, underground tours 10am-3pm, admission free, car park £3
St Fagans National History Museum, Cardiff Traditional blacksmith at St Fagans national history museum in Wales. One of Europe's leading open-air museums, St Fagans has 100 acres of parkland in which you'll find more than 40 original buildings from various historical periods. Among those you can explore are a church, a farm, a school, and a workmen's institute, which are all regularly brought to life through workshops and demonstrations of traditional crafts. When the weather improves, wildlife fans can enjoy the nature trail through the museum's wonderful beech woodland.
029-2057 3500, museumwales.ac.uk/stfagans.
Open daily 10am-5pm, admission free Coventry
Transport Museum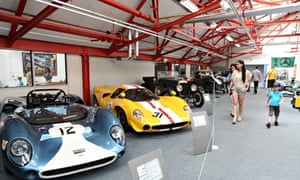 You don't have to a be a gas-guzzling roadhog with a Top Gear tattoo to get excited about this museum's collection of vehicles. Not least because the museum has one of the best collections of bicycles in the country, featuring classics from the painfully rigid Boneshaker to the chilled-out Chopper. Of course, motorheads will want to take a look at the world's two fastest cars (the Thrust 2 and ThrustSCC), which are on permanent display.
• Millennium Place, Hales Street, 024-7623 4270, transport-museum.com.
Open daily 10am-5pm, admission free
Royal Armouries, Leeds We all know families aren't averse to an occasional bit of fighting. A trip to this place, which is brimming with around 70,000 weapons, is more likely to stop bickering siblings in their tracks than prompt an all-out war. The thrilling collection is a testament to the creativity and innovation that has gone into developing tools of combat, and it's hard to know whether to be impressed, or terrified. Film fans may also like to take in a slice of the action at the Swords of Middle Earth exhibition, which includes four heroic swords inspired by the Lord of the Rings trilogy (runs until 28 July).
Armouries Drive, 0113 220 1999, royalarmouries.org.
Open daily 10am-5pm, admission free Yorkshire
Sculpture Park, Wakefield Anthony Caro, Dream City steel sculpture, Yorkshire Sculpture Park.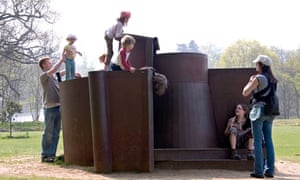 A bit like an art gallery you can shout in (though maybe don't do it too much), the Yorkshire Sculpture Park is a magnificent open-air gallery surrounded by lush countryside. Founded in 1977, and the first of its kind in the UK, the 500-acre park features artworks by Henry Moore, Barbara Hepworth and Eduardo Paolozzi. Check the weather before you go – you might need wellies.
West Bretton, 01924 832631, ysp.co.uk.
Open daily 10am-6pm, admission free, car parking from £2.50
World Museum Liverpool Full of surprises for inquisitive kids, the World Museum Liverpool has a huge collection (of natural wonders and relics) displayed in a fun, interactive, and accessible way. The Bug House will undoubtedly be at the top of the list: you can ogle the museum's research collection and peek at the live displays of leafcutter ants and bees. There's also a planetarium and an aquarium. Throughout half-term the museum runs a range of hands-on activities and family-friendly tours.
William Brown Street, 0151 478 4393, liverpoolmuseums.org.uk/wml.
Open daily 10am-5pm, admission free
Pitt Rivers Museum, Oxford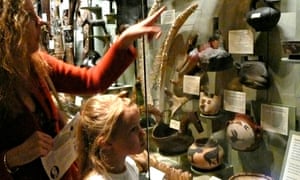 A cornucopia of curios, the Pitt Rivers museum exhibits one man's (Augustus Pitt Rivers) obsessive acquisitions over a lifetime of exploration and discovery. The sheer quantity of stuff in the building becomes evident once you step inside the main hall, where glass cabinets brimming with exhibits fill the floor. With a collection ranging from Tahitian costumes to African crafts, most visitors end up finding at least one object they wish they could take home with them. If only they needed a clearout.
Parks Road, 01865 270927, prm.ox.ac.uk.
Open Mon midday-4.30pm, Tues-Sun 10am-4.30pm, admission free
Nottingham Contemporary Throughout half-term and at weekends, this well-curated art museum organizes family-friendly activities to get children engaged with the work on display. The stunning building, designed by architects Caruso St John, is one of the country's biggest contemporary art centers and has a regular schedule of exhibitions bringing in impressive work from international collections.
Weekday Cross, 0115 948 9750, nottinghamcontemporary.org.
Tues-Fri 10am-7pm, Sat 10am-6pm, Sun 11am-5pm
North Lincolnshire Museum, Scunthorpe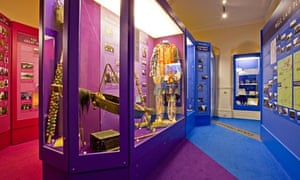 Shortlisted for the Family Friendly Museum award last year, the North Lincolnshire Museum is a surprise treat in an area perhaps not that well-known for its attractions. The collection, featuring archaeology and natural artifacts, is full of interactive exhibits to encourage a shared learning experience for families wanting to find out more about the history of the region. The archaeology gallery is fantastic, as is the 1950s-inspired cafe.
Oswald Road, 01724 843533, northlincs.gov.uk/tourism-museums-and-the-arts/north-lincolnshire-museum.
Open Mon-Sat 10am-4pm, Sun 1pm-4pm, admission free
Mansfield Museum, Nottinghamshire The brainchild of a local collector who gifted his collection to the community, the Mansfield Museum has loads of trails and games to inspire kids. The permanent exhibition displays objects and photographs that illustrate the social and industrial history of the area, including the glass-roofed arcade, where you'll find everything from telephone boxes to penny-farthings. There is also an impressive collection of porcelain, which you can admire while your children enjoy the opportunity to design their own plate.
Leeming Street, 01623 463088, mansfield.gov.uk/museum.
Open Mon-Sat 10am-5pm, admission free
Haslemere Educational Museum, Surrey
One of the largest natural history museums in southern England, the Haslemere has more than 240,000 specimens in its collection, with three large permanent galleries for geology, natural history, and human history. After exploring the museum it's also worth having a wander through its extensive grounds, which include a meadow and a pond, and are dotted with unusual plant life – keep an eye out for the ginkgo tree.
78 High Street, 01428 642112, haslemeremuseum.co.uk.
Tues-Sat 10am-5pm, admission by donation
Falmouth Art Gallery, Cornwall This fantastic collection of art includes masterpieces by the likes of John Singer Sargent, contemporary work by Naomi Frears and counts the world-famous Lady of Shalott painting by John William Waterhouse among its most popular works. Falmouth has won a host of awards for its innovative approach to getting young people and families involved in the museum and gallery experience, and is a past winner of the Guardian's Kids in Museums Award.
Municipal Buildings, The Moor, 01326 313863, falmouthartgallery.com.
Open Mon-Sat 10am-5pm, admission free
Weston Park Museum, Sheffield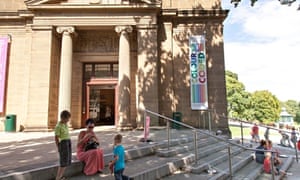 Weston Park Museum was refurbished a couple of years ago, making Sheffield's largest museum even more family-friendly. There are opportunities for children to immerse themselves in nature and history: building an igloo in a section devoted to Sheffield in the ice age, dressing up as a butcher, or spying on an ant colony. The zoological collection is vibrant and interactive and it's worth bringing a sketchbook to draw pictures of the exotic animals on display, from hyenas to millipedes.
Western Bank, 0114 278 2600, museums-sheffield.org.uk/museums/weston-park.
Open Mon-Fri 10am-4pm, Sat 10am-5pm, Sun 11am-4pm, admission free
Herbert Art Gallery and Museum, Coventry Another Guardian Kids in Museums award-winner, Herbert makes an effort to ensure there are plenty of fun activities and experiences to keep families entertained, with a busy half-term program. The museum which recently enjoyed a modern architectural renovation – has a diverse collection to pique the curiosity of visitors of all ages, including local artifacts, natural history, and visual arts, with a remarkable collection of shells.
Jordan Well, +44 24 7683 2386, theherbert.org.
Open Mon-Sat 10am-4pm, Sun 12pm-4pm, admission free
Blaine Castle House Museum, Bristol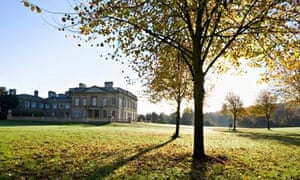 Learn about how people used to live at this 18th-century mansion house surrounded by 400 acres of beautiful parkland. Filled with thousands of everyday objects to illustrate Britain's social history, such as period costume and Victorian bathtubs, it's a good place to let the kids know how good they've got it. There's also a great collection of doll's houses and an extensive collection of lead soldiers, early puzzles, and games. If you're blessed with fine weather, the gardens are a great place to have a picnic: barbecues are permitted, and there's more than enough space for a game of rounders.
Henbury Road, 0117 903 9818, bristol.gov.uk/page/leisure-and-culture/blaise-castle-estate. Open Mon-Fri 9am-5pm, admission free
RELATED: View the weirdest, strangest, and most bizarre museums in the world.