From the golden bays of Abel Tasman to the naturally heated waters of the Coromandel Peninsula, beaches in New Zealand pack as much sunshine and clean water as they do creative adjectives.
Awaroa, Tasman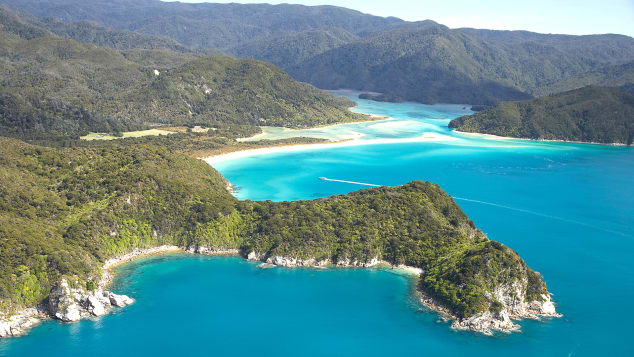 Awaroa beach: Too perfect to privatize. David Wall / Alamy Stock Photo
Surrounded by deep green native bush, and turquoise waters, this stretch of golden sand is so exquisite that a group of New Zealanders banded together to buy it for the country.
"The people's beach" lies deep in the Abel Tasman National Park inaptly named Golden Bay, at the top of the South Island.
When the privately held beachfront came up for sale in 2016, around 39,000 Kiwis donated money so that the site could be gifted to the country's Department of Conservation and kept open to the public.
Work is now been carried out to restore and protect its ecosystem, with coastal birds nesting and roosting nearby.
Crowd-funding may have made this beach accessible to the public but with luck its location in the heart of a national park without road access will ensure it remains relatively unpolluted by people.
The majority of visitors to this piece of paradise come by water or on foot, taking a dip in its clear waters all the sweeter.
You can't stay on the people's beach itself but DOC's campground at Totaranui is an hour and a half's walk away and is itself a beautiful sight.
Moeraki, Otago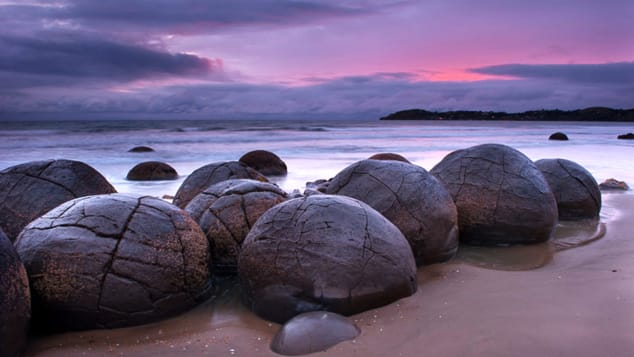 Rocky shore: The boulders of Moeraki. Courtesy Mike Hollman
The sands of Moeraki, just north of Dunedin in the South Island, are lent a sculptural beauty by huge spherical boulders seemingly just dropped from the heavens.
You can leap on them, hide in them and spend a ridiculous amount of time imagining what they are.
There is, of course, a scientific rationale for their existence, but you may have more fun making up your own theories.
For foodies a trip to the boulders maybe just an excuse to enjoy the vast plates of seafood at nearby Fleur's Place (169 Haven St, Moeraki 9482; +64 3-439 4480). The rustic restaurant, built like a fishing hut, is regarded as a phenomenon of its own.
New Chums Beach, Waikato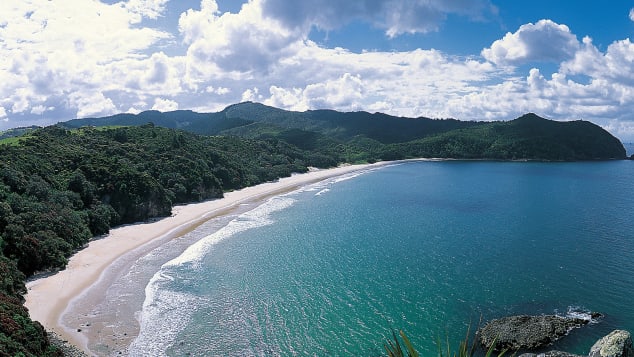 New Chums Beach: Untouched Coromandel. Destination Coromandel
New Chums is one of the few untouched beaches on the Coromandel Peninsula.
There's no road access to this protected bay, which is a 30-minute clamber from the nearest holiday settlement Whangapoua.
It's a long curve of blonde sand with a backdrop of native bush. The waves are normally relatively gentle by New Zealand surf-beach standards and the steeper ocean-floor just makes it easier to fall into the translucent water.
The tiny settlement of Kuaotunu a 20-minute drive from Whangapoua plays host to Luke's Kitchen (20 Blackjack Road,
Kuaotunu, Whitianga; +64 7-866 4480), a surf-shack inspired restaurant with sublime wood-fired pizza.
The Catlins, Otago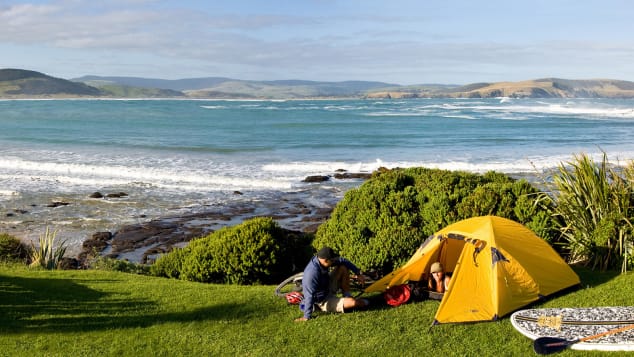 Porpoise Bay: A step back in time. Venture Southland
The Catlins area is the most southeasterly point of South Island.
Despite its stunning, rugged coastline the primary industry is farming not tourism and it feels like New Zealand circa the 1950s.
Visitors have to make a special effort to get here. It's a detour between the cities of Dunedin and Invercargill and you really do feel like you've stepped off the grid. Cellphone coverage is sketchy and there are no banks (and limited ATMs).
The Catlins hosts a procession of beautiful beaches. Porpoise Bay is notable for its accessible wildlife.
From the shores of the horseshoe-shaped beach you might be able to spot rare Hector's dolphins frolicking in the surf.
New Zealand sea lions (they look slow, but note the "lion" part of their name and don't get between them and the water on land) come ashore here and just around the corner, you can look for yellow-eyed penguins.
There's also a fossilized forest next door at Curio Bay.
The campsite between Porpoise Bay and Curio Bay is basic but rustically picturesque, with native flax forming natural walls between many sites. Or you could rent one of the simple holiday cottages (known as baches in New Zealand) that nestle along the shore just don't expect matching crockery.
Rarawa Beach, Far North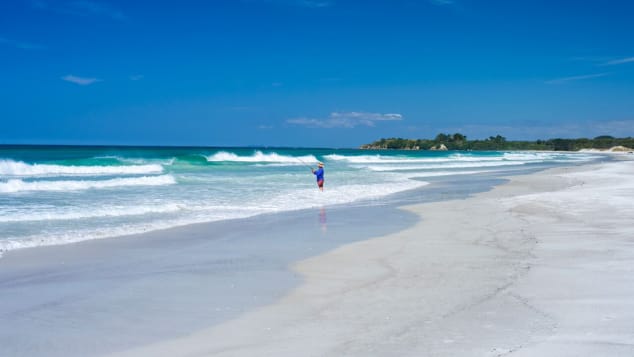 Rarawa Beach: WIndswept and otherworldly. David Kirkland
Stunning and little-visited Rarawa Beach in New Zealand's Far North has fluorescent white sand that squeaks beneath your feet.
The windswept beach has an isolated otherworldly feel.
There are no facilities on the beach itself and a very basic DOC camping ground hidden behind the dunes.
The fragile dune system is home to nesting birds and visitors are urged to keep to the track and avoid disturbing the birds or their environment.
For a more down-to-earth experience, visit New Zealand's northernmost pub the Houhora Tavern (Saleyard Ave, Houhora, Pukenui 0484; +64 9-409 8805) a 15-minute drive back to civilization. Drinking and pool-playing take place in a 1970s concrete block extension to the original 19th-century building but it's a good spot to enjoy a burger of snapper (an NZ fish) and banter with the barman. Dress down.
Wainui Beach, Gisborne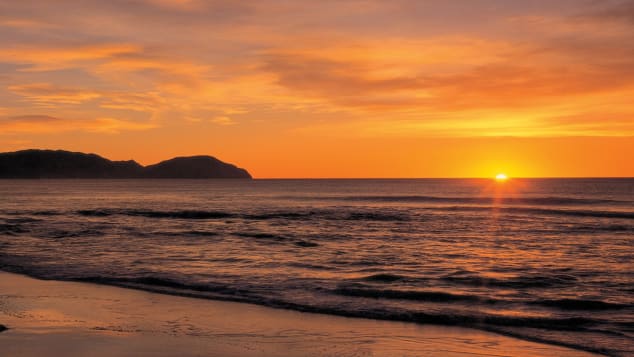 Wainui Beach: Swimming at sunrise. Tourism Eastland Inc
Wainui Beach lies just north of the city of Gisborne and is known for its surf and lush sand.
But it also offers a chance to genuinely swim at the crack of dawn.
Time zones and geography mean New Zealand is the first place in the world to see the sunrise with the East Cape region the earliest on the mainland.
Wainui is one of the processions of gorgeous beaches in this area from where you can greet the new day.
Head further north to Tolaga Bay to take a swim off the longest wharf in the Southern Hemisphere and then continue driving to explore one of the most unique areas of New Zealand.
Gillespies Beach, West Coast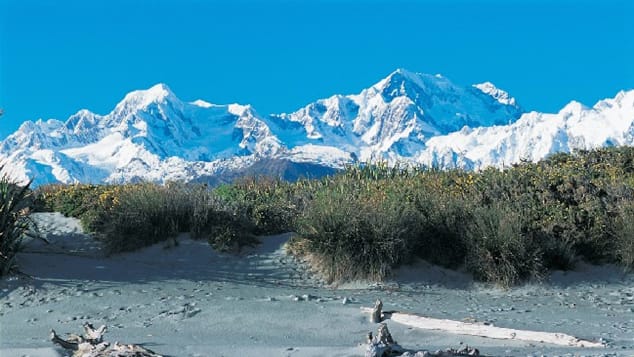 Gillespies Beach: Windswept, wild and wonderful. Tourism West Coast
Gillespies Beach on South Island's West Coast is windswept and desolate with mounds of bleached driftwood lying scattered on gray pebbles.
The Southern Alps loom to the east, while to the west there is nothing but the Tasman Sea pounding in from Australia.
Step back a few meters and you'll find tombstones marking the graves of miners who came to this remote stretch of coast hunting for gold.
A partially sealed road leads to the beach, which is in Westland Tai Poutini National Park -- part of the UNESCO-listed Te Wahipounamu.
Gillespies Beach is about 20 kilometers (12 miles) from Fox Glacier township. Turn off between the two to Lake Matheson, where clear, still conditions might allow you to see one of New Zealand's most iconic views the reflection of its highest mountain, Aoraki Mt Cook, in its waters.
Karekare Beach, Auckland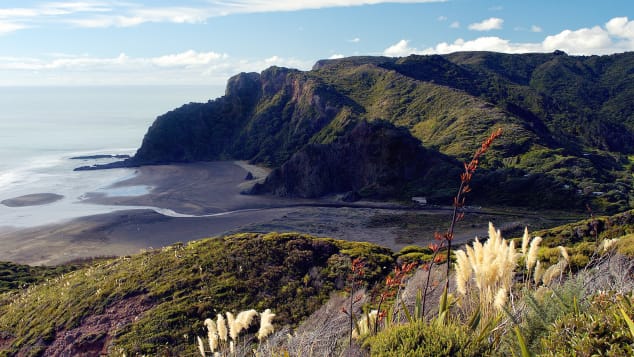 Karekare Beach: Majestic and untouched. Scott VENNING
Karekare beach caught the world's attention in Jane Campion's film "The Piano," but it's managed to stay grounded despite the brush with fame.
A cluster of houses look out from bush-clad hills behind the beach but Karekare feels majestic and untouched.
In the shallows, water from the Tasman Sea sweeps over the iron sand to create a dark mirror for the sky, while farther out surfers battle the waves.
Local tip: Stop in the village of Titirangi on your way out to the coast and visit the Lopdell Precinct home to galleries, an eatery, and shops. On the last Sunday of every month a market is held in an area behind Lopdell.
Hot Water Beach, Waikato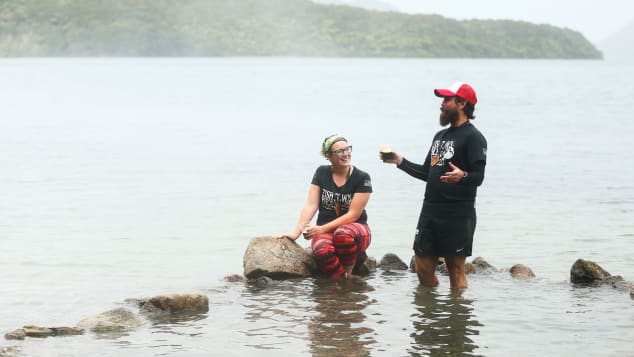 Hot Water Beach: A spa in the sands. Hagen Hopkins/Getty Images AsiaPac/Getty Images
Hot Water Beach is a gorgeous beach with hidden depths. In-the-know visitors to this candidate for best New Zealand beach pack shovels and arrive around two hours before or after low tide.
That's so they can dig a hole at the tide line and relax in a personal, natural hot springs spa -- at least until the tide comes up and the waves end the fun. The coastal springs are unusual, and the water that burbles up is full of the healthy minerals calcium, magnesium, potassium.
For anyone feeling energetic, the majestic Cathedral Cove is an easy 40-minute hike away.
Piha Beach, Auckland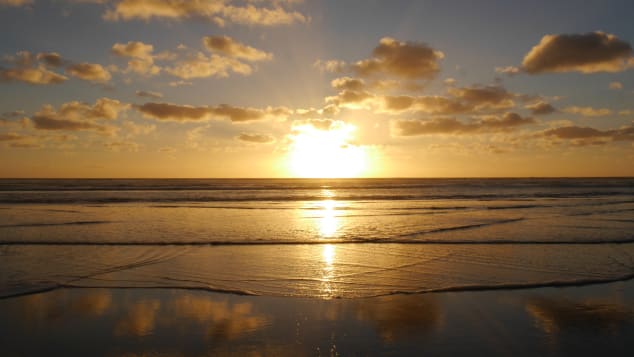 The view is even better from atop Lion Rock. Courtesy Murat WithHat/Creative Commons/Flickr
The birthplace of Malibu board riding in New Zealand, Piha is the country's most famous surfing beach as well as one of the best New Zealand beaches. But it isn't just a surf beach -- rugged cliffs frame the sea, the commanding Lion Rock stands guard and the lush bush of the Waitakere Ranges provide plenty of opportunity for exploration, walking and picnicking.
Located on the wild west coast, a half-hour drive from Auckland, it's also a quintessential black, iron sand destination, moody and misty. Definitely not a swim and sunbathing spot, the vibe is more windswept and mysterious.
Rips and currents abound. Swim only in areas patrolled by lifesavers.
Kaiteriteri Beach, Tasman
Kaiteriteri Beach: Sunshine on tap. ISTOCKPHOTO
Golden sand and the highest rate of sunshine hours in New Zealand mean Kaiteriteri Beach has all the prerequisites for an idyllic seaside experience.
The gateway to magnificent Abel Tasman National Park, the beach is located at the top of New Zealand's South Island. From here you can hike the area's well-known walking tracks, swim, sunbathe, enjoy a lunch of local seafood or hire a kayak to paddle around the many coves and lagoons that surround Kaiteriteri.
The golden color of the sand comes from a high quartz content, which produces a glittering, Midas-like effect. Penguins, seals and dolphins are common, so make sure your camera batteries are fully charged. A short drive from the Nelson Township and picturesque Motueka, Kaiteriteri is decidedly the best beach in the South Island.
Whale Bay, Waikato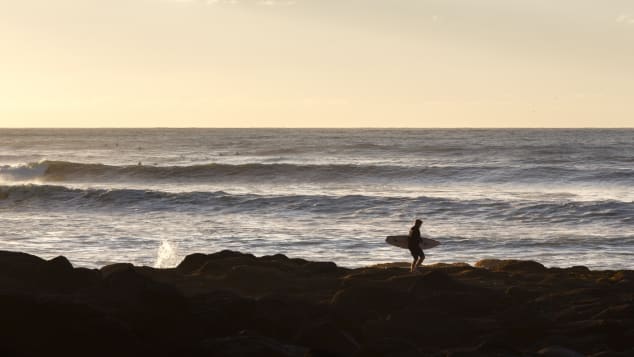 Whale Bay: Popular with surfers. Courtesy Florian Bugiel/Creative Commons/Flickr
A quiet and environmentally minded coastal community situated between Mount Karioi and the ocean, Whale Bay is just five minutes' drive south of Raglan.
The hills are covered with native trees, while the beach itself is world-renowned for its surf.
The left-hand point break is a favorite of surfers. This is a great place to learn how to ride the waves, and there are plenty of surf schools in the area. Without guidance and tutelage, however, this isn't a place for "grommets" or beginner surfers.
The laid-back surfer vibe has attracted plenty of organic food shops and restaurants, eco-resorts, massage studios and, of course, relaxed riders.
Mission Bay, Auckland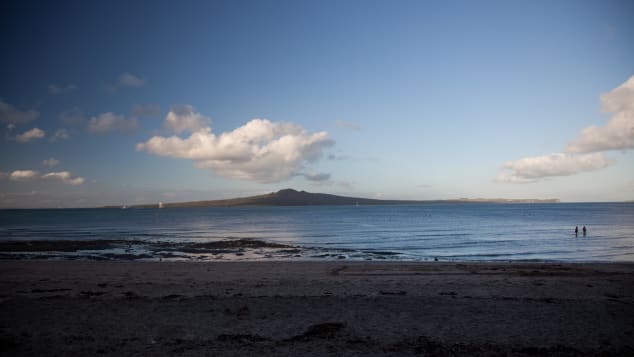 Mission Bay: Kayaking heaven a short drive away from Auckland. Courtesy russellstreet/Creative Commons/Flickr
With its bustling feel, vibrant restaurants, ice cream parlors, cafes and pubs, Mission Bay is definitely a city beach. A short drive from Auckland's central business district, on a sunny day this best New Zealand beach entry hums with people playing Frisbee, taking walks and paddling in the ocean.
Mission Bay is blessed with golden sands, an expansive grassy area with plenty of picturesque Pohutukawa, New Zealand's native "Christmas tree." The trees are bedecked with oversized red blooms during summer. This is a great spot to grab an ice cream from the beachfront Mövenpick store and kick back for a little relaxation in the heart of the city.
Ocean Beach, Bay of Plenty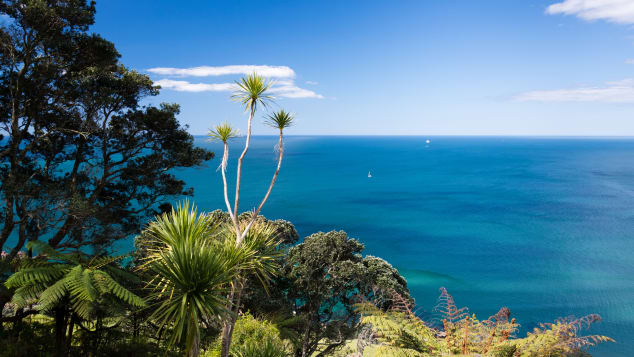 Ocean Bay: Surf City, Kiwi-style. Courtesy Christoph Strassler/Creative Commons/Flickr
Mount Maunganui is something of an oddity in that it has both an ocean beach and a harbor beach, Pilot Bay. The placid harbor beach is good for swimming. Ocean Beach is more dramatic and popular for surfing and bodysurfing.
For good reason, Mount Maunganui is dubbed "Surf City." Good weather year-round and a great cafe scene make "The Mount," as locals call it, an easy vacation destination.
Ninety Mile Beach, North Land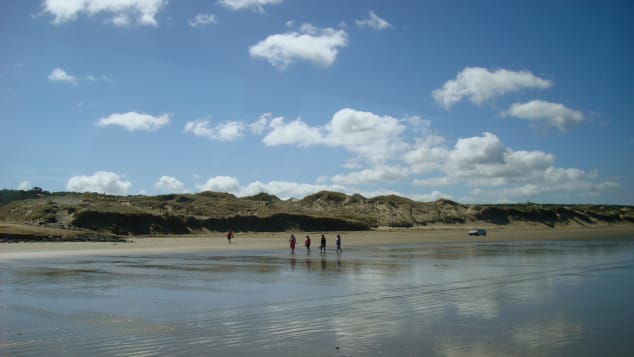 Ninety Mile Beach: Whether you count in miles or kilometers, it's still a really long beach. Courtesy Adamina/Creative Commons/Flickr
While the name Ninety Mile Beach is actually a misnomer (it's really only 55 miles long, and New Zealanders use kilometers rather than miles), it is justly a top tourist destination for its staggering beauty.
With sand dunes reminiscent of a desert landscape, it stretches from just west of Kaitaia right to Cape Reinga, the northernmost tip of New Zealand.
Golden sands and impressive breakers alongside the magical Aupouri Forest make this perhaps the most famous beach in New Zealand it's certainly the biggest.
The long stretch of beach is best accessed from Ahipara township at the southernmost point of the beach. Follow Sandhill Road north with various access points dotted along the way.