Boxing is a combat sport in which two people engage in a contest of strength, speed, reflexes, endurance, and will, by throwing punches with gloved hands against each other. It is one of the highest paying sports and a very difficult one indeed. Amateur boxing is both an Olympic and Commonwealth sport and is a common fixture in most of the major international games.
It is a show not to be missed, a match not to be skipped, a contest not to be forgotten, a fight unable to ignore, a display of manhood not less than the training of army commandos, a battle not less thrilling than Shoaib Akhtar bowling at 100 mph, a performance not less cool than Michael Jackson's dance in the '80s, a game not less technical than Jimi Hendrix's guitar playing, a test of temperament not less tough than a CIA interrogation, an exhibition of mind not less demanding than a scientific experiment - a manifestation of power and might not less breathtaking than Jurassic Park. What is it? Boxing is a warlike sport in which rivals compete for power, swiftness, reflex action, fortitude and iron will by giving punches with gloves to each other. It simply needs no introduction to anyone at all because, thanks to blockbuster movies like Body and Soul, Raging Bull, Rocky, Fat City, and The Set-up, you don't need Google or a dictionary at all to know what it is. No wonder, a bestselling and epic pop-rock band like Coldplay released one of its greatest songs, "Everglow" as a tribute to Muhammad Ali.
Select the best, filter the rest
At the amateur level, boxing is a Commonwealth as well as an Olympic sport. It is a usual feature in most of the big global sporting events. Not just an extremely well-paid sport but very popular and historical too. Selection of the best boxers is a mighty assignment especially in a sport like this with different categories of weights, various belts and, not to forget, 100 years of history left behind. One may focus on stats of wins/losses; one can select the greatest on the criterion of belts won and caliber of opposition. There is durability, local appeal or charisma, dominating influence, accomplishments and actual display of performance in the ring to be fully considered to build this extremely tough list which, we hope, you will cherish very much as it is not confined to top-ranked heavyweight boxers only but a wider and fuller spectrum of top boxers of all time.
Joe Louis
Joe Louis is often known as "the Man Who Beat the Hitler". He is referred to as the brown bomber and was considered as an American Icon. He has a record of winning 66 matches; losing 3 and 52 knock out winnings.
He was a shining star for sure with a great record. He was a national hero for the people of America and also a symbol of pride. During the world war, he was more than just a boxer and his fights had social, political and international significance.
Sugar Ray Robinson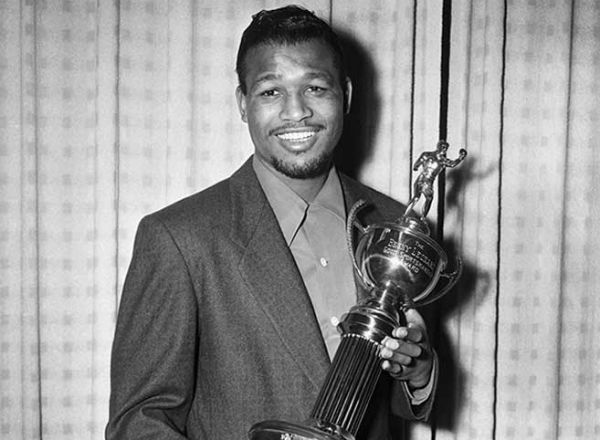 Sugar Ray Robinson had his boxing era from 1940 to 1965 and the majority of the people considered him as the best pound for pound boxers in the world. Ray had a record of 173 wins out of which 109 were knockout wins, 6 were draws and 2 matches were no contest matches. He was also the best boxing talent that the world ever witnessed.
Surprisingly, many of his fans still consider that if he could practice today, he could be the best boxer in the world right now. He had an amazing power in his punch to knock the opponent out.
Julio Cesar Chavez
Many awesome boxers in the past were produced by Kos Mexico but certainly, the best was Julio Cesar Chavez. He was famous for his punching power, a rocklike hard chin and persistent pestering unlucky rivals in the ring. He became a professional at the age of 17 only. He became a legend possessing a record of as many as ten years with zero loss. Chavez holds a record of 108 wins and 87 knockouts while losing 6 matches. He had an amazing unstoppable sequence of eighty-seven fights with no loss at all while also winning global championships in three separate weight divisions. He won the WBC super featherweight title in 1984. He dominated Edwin Rosario to win WBA lightweight belt in 1987. He, in 1989, defeated Roger Mayweather to seize the crown of WBC junior welterweight. In 1990, he won the IBF title with a heart-pumping last-moment win over Meldrick Taylor. He bravely fought all and never avoided a fierce contest. Due to his expert boxing moves, he was reckoned as a tough fighter and an entertainer. His career spanned from 1980 to 2005 with a record that looks like this: 108/6/2: 87 knockouts.
Memorable Moment: In an illustrious career filled with legendary bouts, he is highly known for his fight against the undefeated IBF Light Welterweight Champion, Meldrick Taylor in 1990. Taylor overpowered the contest and won the initial 8 rounds but when there were 4 left, Chavez made a wonderful comeback. He defeated Taylor with only a few moments left. It was certainly one of the best ten fights ever witnessed.
Jack Johnson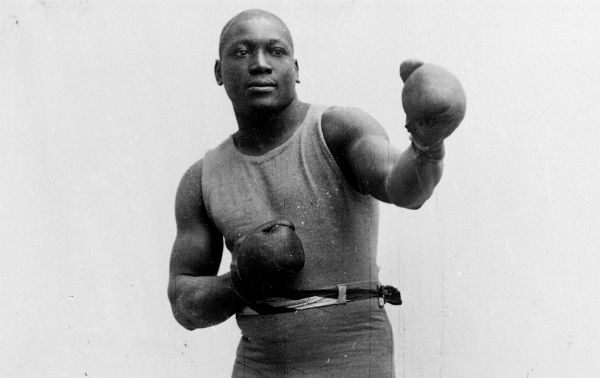 Legendary boxer Jack Johnson was the first American heavyweight champion before Roy Jones and Mohammad Ali. He had a boxing era from 1897 to 1945.  Jack was unbeatable for more than 10 years and he used to humiliate the opponents by not letting them knock him out. He used to continuously beat his opponents in the ring and snatch his victory.
The presses used to abuse and discredit him but he still was unbeaten. For more than 10 years, he was the most hated and the most famous African American on the earth. He had a record of 73 wins out of which 40 were knockout wins and lost 13 matches.
Mike Tyson
Mike Tyson was, without doubt, one of the greats and most powerful of all time. In the nineties, Tyson was unbeatable knocking out all those contenders who, sadly, approached him. He possessed a deadly double-fist and an intimidating demeanor forcing many fighters into helplessness before even the bell rang. He would simply tear apart heavyweight ranked players uncompromisingly until being toppled by 42-1 underdog James "Buster" Douglas in 1990. In 1996, he regained WBC heavyweight belt from Bruno and WBA belt from 1996. His record is 50 wins including 44 knockouts and losing 6 only. He was amongst the most talked about and feared boxers of all time making an impact in and out of the ring. In his peak period, people threw bucks just to get a glimpse of his fighting class- a fast deadly knockout – certainly, one of the top 10 heavyweight boxers of all time and top 3 boxers of his time. His career spanned from 1985 to 2005 with the record - 50/6/0/2 with 44 Knockouts.
Memorable moment: In 1986, he crushed Trevor Berbick in 2nd round becoming history's youngest heavyweight champ.
Roberto Duran
Roberto Duran is most widely known for being good enough to hold 5 different championship titles in his spectacular career. These include lightweight, welterweight, junior middleweight and middleweight titles. With the nickname of Manos de Piedra or Hands of Stone, he was a very commanding world lightweight champion 1972-1979. He defeated 11 among the 12 contenders while defending the lightweight title. This deadly fighter moved up to welterweight to attain world championship in 1980 and became the light-middleweight world champion of 1983-84. He moved up to middleweight and won a championship in 1989. He won as many as 103 fights in his career and knocked out as many as 70 fighters on the way. Duran was simply unstoppable in the ring in which he dominated the lightweight division for 7 years. His career spanned from 1968 to 2001 with the record – 103/16: 70 Knockouts.
Known to be a garbage-talking and very aggressive brawler, Duran fought during one of the strongest boxing eras of all time with legends like Hagler, Hearns, and Leonard but, unlike them, managed over 100 victories in a professional career spanning over 5 decades to become, in history, as one of the greatest boxers of all time, not just the top lightweight boxers or middleweight boxers ever.
Memorable moment: In 1980, Roberto won the WBC welterweight title from Sugar Ray Leonard with a 15th round decision.
Muhammed Ali
Born as Cassius Clay in Kentucky in 1942, Muhammed Ali is truly a legendary icon in every sense of the words. As an amateur, he had won over 100 fights including a gold medal at 1960's Olympic Games, Rome. He managed to go 19-0 as a professional fighter and developed his own rare style, outside the ring, to belittle his opponents while lauding his own skills. George Foreman, Sonny Liston, Joe Frazier, Floyd Patterson, Ken Norton, Jimmy Ellis, Leon Spinks and who not lost to Ali. He remained a heavyweight champion of the world 1964-67, 1974-78 and 1978-79. At that time, he was the sole heavyweight to win the world title thrice. His career spanned from 1960 to 1981 with the record – 56/5: 37 Knockouts.
Full of flamboyance and braggadocio, in 1960, he managed to win the Olympic gold. He interestingly dubbed himself 'The Greatest' as a pro fighter, bringing change in society and living up to the title he called himself with. He was brutally blunt, thrilling, an unconquered fighter and an irreplaceable entertainer in the world of boxing. He held a record of 56 wins (in total) out of which as many as 37 were knockouts. He faced only 5 losses in his career. There is a theory to suggest that had Ali not been forced to give up boxing in his prime for 3 years because of his refusal to induct into armed forces during the Vietnam War, he would have never lost at all. He transcended boxing, unlike any other player, reinventing the way heavyweights supposed to fight while deploying a speed and athleticism previously unheard of. He, alternately, bedazzled and appalled America and the world with charisma as well. Ali did have the best chin and heart in boxing and his name remains synonymous with the sport. One can think of no list of top 10 greatest boxers of all time without the mention of Ali.
Memorable moment: In 1975, Muhammad Ali completely destroyed Joe Frazier in what was dubbed as "Thrilla in Manila." One of the greatest ever fights in history, both Frazier and Ali showed reservoirs of courage and perseverance.
"Even in dreams, if you see yourself defeating me, you should apologize to me when you wake up" - Muhammad Ali
Willie Pep
Willie Pep is, without doubt, the greatest featherweight of all time. Born in 1922 in Connecticut, Pep was the most indefinable fighter the world has known. It is said that he once won a round without even throwing a punch - what skills of movement and footwork!
He won his first 63 bouts before he finally lost to Sammy Angott and then 72-0-1 before he lost to Sandy Saddler. He was really tough, too fast and carried a big heart with many fights going into full-time wars. His biggest rival was Sandy Sandler who would do what is called "to box dirty" and used eye-gouging, thumbing and even wrestling for stopping Pep. His subtlety and the honor of being the best Featherweight record in history make him a worthy and fully deserving candidate for this special list. Choosing one memorable moment was too tough in this case. His career spanned from 1940 to 1966 with this record- 229/11/1: 65 knockouts.
Floyd Mayweather Jr.
It can be safely said without exaggeration that Mayweather was destined for boxing. This great defense styled fighter, still not defeated, is a 5-division world champ with 8 world titles to his credit. He is gifted with profound natural abilities besides being a highly expert technician. He managed to win WBC 130-pound title while conquering Genaro Hernandez besides the WBC lightweight belt, 2002 as well as a junior welterweight belt, 2005.
Mayweather is undoubtedly one of the most intelligent players in boxing history. He is an indescribable and ruthless opponent that has granted many of today's current list of boxing nightmares. Not defeated, Floyd is not far from being recorded in history as the greatest. Ranked as, currently, the best boxer around, he is a future member of Hall of Fame and is the highest-earning sportsman. He is undeniably a big superstar owing to the fact that he is acclaimed as the best player of our era. If we, instead, call him among the top 5 boxers in the world right now, it will be a source of humiliation for this genius. The remaining top boxers today must be envying him fully while competing for the top pound for pound boxers tag. His career started in 1996 and continues till today with the record – 48/0 with 26 knockouts.
Memorable Moment: Floyd Mayweather Jr. applied his entire set of trademark skills as a boxer to outplay a firm Manny Pacquiao, winning that epic battle at MGM Grand. It went for full 12 rounds with judges finally agreeing on a mutual decision – a special treat for those who yearn to see welterweight boxers in full throttle or, in simple words, the top boxers right now.
Sugar Ray Leonard
Leonard arrived on the scene with a big bang in the 1976 Olympic Games in Montreal and attained a gold medal. He had the fastest hands and quickest footwork in the welter/middleweight division. He held many world boxing championship titles be it welterweight or light heavyweight division. His career spanned from 1977 to 1997 with this record- 36/3/1 with 25 knockouts.
He was the first boxer earning higher than $100 million in purses. He eventually acquired world titles in 5 weight divisions defeating big guns like Thomas Hearns, Wilfred Benítez, Marvin Hagler & Roberto Durán. His status as an undisputed icon was established again in 1987 when he returned to the game defeating Hagler, the WBC world middleweight champ. This man had it all - flashing fists, great fighting skills and everything else that transformed him from an Olympic champ to a world champ flawlessly with an all-round slickness that made him beloved by boxing enthusiasts around the world.
Memorable moment: He crushed Roberto Duran in the eighth round in the 1980 "No Mas" bout recapturing the WBC Welterweight Championship he had lost seven months before to the same.
Jack Dempsey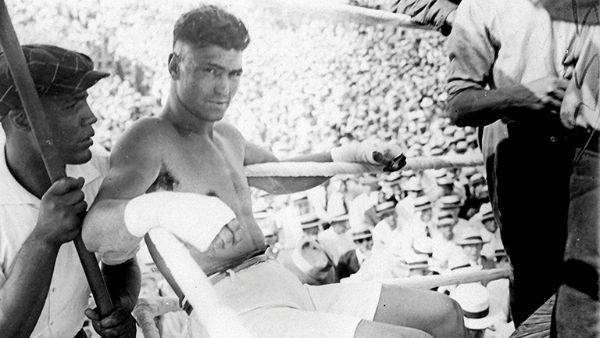 Boxing star Jack Dempsey is definitely amongst the most popular boxers in America. He is also famous for setting the highest purse records and attendance. Jack also had the first million fights in his career.
He was amongst the most brutal and entertaining boxers of all time. He was a wild boxer in his time with a record of 66 wins out which 51 were knock out wins and he lost 6 matches.
Joe Louis
Joe Louis was born in 1914. The greatest among heavyweights in boxing terms and statistics, Joe held the crown 1937-49. He had an awesome jab and was a shattering ender. He would stalk opponents in the harshest possible manner. He subdued 22 of his 25 opponents in title defenses. His career spanned from 1934 to 1951 with a record- 68/3: 54 knockouts. He is most famous for a dynamic portfolio in-ring besides the obvious quality of his opponents. Louis held on to heavyweight championship title for almost 12 years fighting 27 championship fights at that level - a record not yet broken. He became the first-ever boxer to defeat 6 heavyweight champions. His most eminent opponents included Jim Braddock, Primo Carnera, Max Baer and Rocky Marciano. His record & presence outside the ring make him one of the top boxers to influence the sport of boxing.
Memorable moment: In 1938, Joe Louis who was World Heavyweight Champion at that time knocked out challenger, Max Schmeling in the 1st round. This fight established his popularity as one of the top 5 boxers of all time.
Rocky Marciano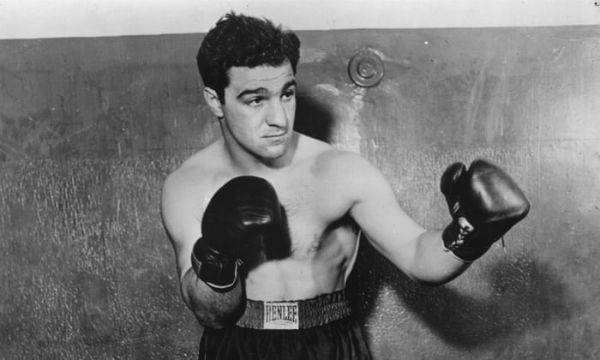 Legendary boxer Rocky Marciano is amongst the hardest punchers of all time. He had a boxing era from 1948 to 1955 and he has a claim to fame for being the heavyweight champion who is undefeated.
Rocky has a record of 49 wins out of which 43 were knock out wins and zero losses. He had been a great boxer without any doubt in his time. His ranking is low because his competitions were not as strong as boxers like Muhammad Ali and Robinson.
Henry Armstrong
He has a boxing era from 1931 to 1945 and he had 150 wins out which 100 were KO and he lost 21  matches. He was the only boxer to have the titles of 3 world championships.
His career started on the losing end but he gradually got on the winning streaks. He has also had 27 consecutive victories and all of these were in knockouts. This accolade reflects his greatness in the boxing arena.
Sugar Ray Robinson
Sugar Ray Robinson was initially an amateur fighter who turned professional at 19 only. He then went on to fight another 40 times, undefeated - a run of 123 victories in succession. He lost only one of those 123 fights to Jake LaMotta, a defeat retaliated 5 times in a classic boxing rivalry at the ring. Active as a pro boxer for as long as 25 years, Robinson was the world welterweight champion 1946-1951, the world middleweight champion 1951-52, 57-58 and, then, again 1958-60. His career spanned from 1940 to 1965 with stats- 173/19/6/2: 109 knockouts.
Robinson was a thorough technician with a vast and dynamic arsenal including one of the greatest left hooks ever witnessed. He had everything - skill, rapidity, accurateness, resolution and sheer power. An almost perfect warrior at welterweight, he was able to win the title 5 times including 3 times after he retired for 2.5 years. He fought to subdue the greatest boxers of his generation forcing us to hail him among the top ten boxers ever that stepped into the boxing ring - the top-ranked heavyweight boxers list does not include him for obvious reasons.
Memorable moment: In December 1946, Sugar Ray Robinson managed to score an emphatic win in the National Boxing Association World welterweight title over Tommy Bell with a 15th round decision. Bell had given Robinson his severest title fight at 147 pounds.